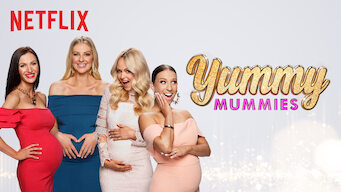 Is
Yummy Mummies: Season 1 (2018)
on Netflix Singapore?
1 / 5 (compiled from 1 review source)
Singaporean Netflix Release: January 18, 2019
Competition Reality TV, Australian TV Shows, Reality TV
Synopsis
It's drama Down Under when expectant mothers with model good looks and lavish lifestyles pull out all the stops to prepare for their new arrivals. They're fabulously rich, stunningly beautiful -- and very pregnant. Meet some of Australia's most exclusive mums-to-be.
Watch on Netflix
Cast
Lorinska Merrington, Jane Scandizzo, Rachel Watts, Maria DiGeronimo
Yummy Mummies: Season 1
Season 1 of Yummy Mummies has 10 episodes. Because different Netflix countries have different availability for episodes, you'll need to check the episode listing below to see which are available in Singapore.
You can also click on any episode below to get more information on which Netflix countries it is available in.