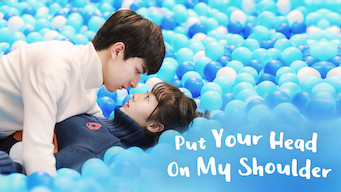 Is
Put Your Head on My Shoulder: Season 1 (2019)
on Netflix South Korea?
1 / 5 (compiled from 1 review source)
South Korean Netflix Release: December 1, 2019
Chinese TV Shows, Teen TV Shows, Teen Romance, TV Shows Based on Books
Synopsis
On the cusp of graduation, an accounting major searching for her career winds up living with a genius physics student who shakes up her daily routine. He's a science nerd. She's a lost student. Their campus love story begins with them living together -- as strangers.
Watch on Netflix
Cast
Fair Xing, Lin Yi, Daddi Tang, Yi Sha, Zhou Zixin, Zheng Yingchen, Cai Gang, Liang Aiqi, Rong Rong, He Qiang
Put Your Head on My Shoulder: Season 1
Season 1 of Put Your Head on My Shoulder has 24 episodes. Because different Netflix countries have different availability for episodes, you'll need to check the episode listing below to see which are available in South Korea.
You can also click on any episode below to get more information on which Netflix countries it is available in.