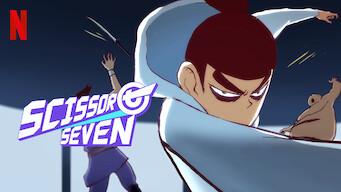 Is
Scissor Seven: Season 1 (0)
on Netflix Spain?
1 / 5 (compiled from 1 review source)
Spanish Netflix Release: January 13, 2020
Chinese TV Shows, TV Action & Adventure, TV Comedies
Director(s): He Xiaofeng
Synopsis
Seeking to recover his memory, a scissor-wielding, hairdressing, bungling quasi-assassin stumbles into a struggle for power among feuding factions. Hair styling. Hit jobs. He's not cut out for either. Will this underpaid killer find his true calling?
Watch on Netflix
Cast
He Xiaofeng, Jiang Guangtao, Duan Yixuan, Zhu Rongrong, Wen Sen, Jiang Huiqin, Ban Ma, Ronny Chieng, Shinji Saito, Daniel Sosa, Max Boublil
Scissor Seven: Season 1
Season 1 of Scissor Seven has 14 episodes. Because different Netflix countries have different availability for episodes, you'll need to check the episode listing below to see which are available in Spain.
You can also click on any episode below to get more information on which Netflix countries it is available in.