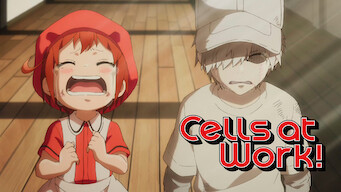 Cells at Work!: Season 1
Netflix Taiwan
1 / 5 (compiled from 1 review source)
Taiwanese Netflix Release: March 15, 2020
Japanese TV Shows, Anime Series, Teen TV Shows, TV Shows Based on Manga, Action Anime
Synopsis
One newcomer red blood cell just wants to do her job. Between bacteria incursions and meeting a certain white blood cell, she's got a lot to learn! The human body contains approximately 37.2 trillion cells. All of them have their jobs, and those jobs aren't easy.
Watch on Netflix
Cast
Kana Hanazawa, Tomoaki Maeno, Daisuke Ono, Kikuko Inoue, Maria Naganawa, Takahiro Sakurai, Saori Hayami, Nobuhiko Okamoto, Yuichi Nakamura, Shoya Chiba, M・A・O, Ayako Kawasumi, Aya Endo, Hiroyuki Yoshino, Mamiko Noto
Cells at Work!: Season 1
Season 1 of Cells at Work! has 14 episodes. Because different Netflix countries have different availability for episodes, you'll need to check the episode listing below to see which are available in Taiwan.
You can also click on any episode below to get more information on which Netflix countries it is available in.