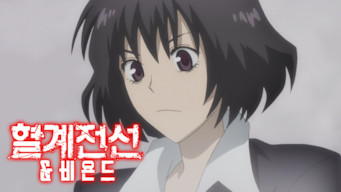 Is
血界戦線 & BEYOND (2017)
on Netflix United Kingdom?
血界戦線 & BEYOND is not available on Netflix United Kingdom
Japanese TV Shows, Anime Series, Shounen Anime, TV Shows based on Manga, Sci-Fi & Fantasy Anime, Action Anime
Synopsis
In Hellsalem's Lot, the interdimensional city that was once Manhattan, Libra agent Leonardo Watch tackles even more whacky and dangerous missions. Monsters, demons, magical beings and more. One secret agency works from the shadows to keep the peace among them all.
Cast
Rikiya Koyama, Daisuke Sakaguchi, Kazuya Nakai, Mitsuru Miyamoto, Yu Kobayashi, Hikaru Midorikawa, Ai Orikasa, Banjo Ginga, Mamoru Miyano, Keiji Fujiwara, Yuma Uchida, Nana Mizuki