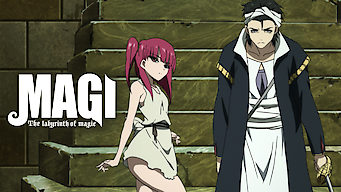 Is
Magi: The Labyrinth of Magic: Season 1 (2012)
on Netflix USA?
1 / 5 (compiled from 1 review source)
American Netflix Release: March 8, 2019
Japanese TV Shows, Anime Series, Shounen Anime, TV Shows based on Manga, Sci-Fi & Fantasy Anime, Action Anime
Synopsis
A land of mysterious ruins and a magical treasure hunt await young Aladdin and his courageous friend Alibaba for the adventure of their lives. Classic characters meet mind-blowing new magical adventures with treasure, friends -- even a genie. Bring on the fun!
Watch on Netflix
Cast
Kaori Ishihara, Yuki Kaji, Haruka Tomatsu, Daisuke Ono, Ryohei Kimura, Takahiro Sakurai, Yoshimasa Hosoya, Showtaro Morikubo, Yui Horie, Tomokazu Sugita
Magi: The Labyrinth of Magic: Season 1
Season 1 of Magi: The Labyrinth of Magic has 25 episodes. Because different Netflix countries have different availability for episodes, you'll need to check the episode listing below to see which are available in the USA.
You can also click on any episode below to get more information on which Netflix countries it is available in.