Metro Manila is not available on Netflix in the USA, but it can be unlocked and watched on Netflix anywhere worldwide! No release date has been given yet for when it might be available on Netflix in the USA, but here are some countries where it can be streamed online, along with the release date for each country:
Netflix Egypt: Released on December 28th, 2018
Netflix Philippines: Released on July 26th, 2018
Netflix Japan: Released on January 13th, 2017
Netflix Spain: Released on October 19th, 2015
Check out our steps for watching Metro Manila from the USA through Netflix Egypt, plus watch International Netflix through many other countries and more than double your Netflix catalogue!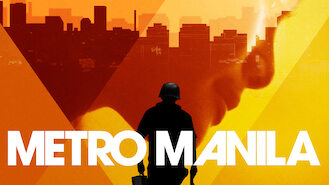 Metro Manila
2013
Seeking a better life, Oscar moves his family from a farm to the bustling city of Manila, where they soon realize that they're out of their element. Things reach a boiling point when Oscar's job at an armored truck company threatens his very life.
Cast
Jake Macapagal

John Arcilla

Althea Vega

Erin Panlilio

Iasha Aceio

Miles Canapi

JM Rodriguez

Ana Abad-Santos

Moises Magisa