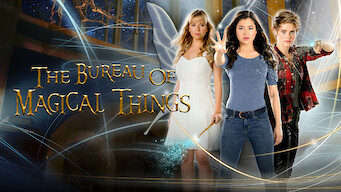 Bureau of Magical Things: Season 1
Netflix France
1 / 5 (compiled from 1 review source)
French Netflix Release: October 15, 2020
Kids' TV, Australian TV Shows, Fantasy TV Shows, Family Watch Together TV
Synopsis
When a teen accidentally discovers an enchanted realm, she becomes the only one able to unite the human and magical worlds – and save both from evil. In the human world, she's just an average teen. But in this magical place, she's more powerful than she ever imagined.
Watch on Netflix
Cast
Kimie Tsukakoshi, Elizabeth Cullen, Mia Milnes, Julian Cullen, Rainbow Wedell, Jamie Carter, Christopher Sommers
Bureau of Magical Things: Season 1
Season 1 of Bureau of Magical Things has 20 episodes. Because different Netflix countries have different availability for episodes, you'll need to check the episode listing below to see which are available in France.
You can also click on any episode below to get more information on which Netflix countries it is available in.