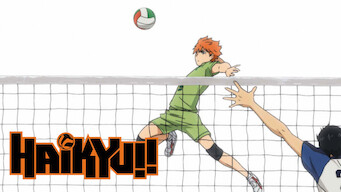 Is
Haikyu!!: Haikyu!! TO THE TOP (2015)
on Netflix Japan?
1 / 5 (compiled from 1 review source)
Japanese Netflix Release: January 12, 2020
Japanese TV Shows, Anime Series, Shounen Anime, Drama Anime, Teen TV Shows, TV Shows Based on Manga, School Anime, Family Watch Together TV
Synopsis
Inspired by a championship match he sees on TV, junior high schooler Hinata joins a volleyball club and begins training, despite his short height. He's too short to play the game, but nothing is going to stop his volleyball dreams from coming true.
Watch on Netflix
Cast
Ayumu Murase, Kaito Ishikawa, Satoshi Hino, Miyu Irino, Yu Hayashi, Koki Uchiyama, Soma Saito, Nobuhiko Okamoto, Yoshimasa Hosoya, Toshiki Masuda, Kaori Nazuka, Hiroshi Kamiya, Kazunari Tanaka, Daisuke Namikawa, Hiroyuki Yoshino, Sumire Morohoshi, Yuichi Nakamura, Yuki Kaji, Shinnosuke Tachibana, Mark Ishii, Ryohei Kimura, Ryota Takeuchi, Hisao Egawa, Subaru Kimura