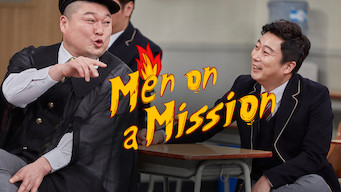 Is
Men on a Mission: 2019 (2019)
on Netflix Japan?
1 / 5 (compiled from 1 review source)
Japanese Netflix Release: April 9, 2019
Korean TV Shows, TV Comedies, Reality, Variety & Talk Shows, Talk Shows
Synopsis
Male celebs play make-believe as high schoolers, welcoming star transfer students every week and engaging in battles of witty humor and slapstick. In this classroom, everyone becomes the same age. No books, no teachers. Just lots of foolin' around.
Watch on Netflix
Cast
Kang Ho-dong, Lee Soo-geun, Lee Sang-min, Seo Jang-hoon, Kim Hee-chul, Min Kyung-hoon, Kim Young-chul