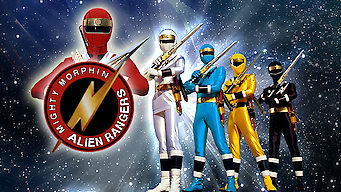 Is
Mighty Morphin Alien Rangers: Season 1 (1996)
on Netflix Netherlands?
Dutch Netflix Release: October 4, 2017
Kids' TV
Creator(s): Haim Saban, Shuki Levy
Synopsis
Visitors arrive from space to help Red Ranger and his squad -- temporarily stripped of their powers -- fight against Lord Zedd and Rita Repulsa. All of Earth's residents are aging in reverse! Rangers fueled by water and light come to get the bad guys.
Watch on Netflix
Cast
Matthew Sakimoto, Julia Jordan, Sicily Johnson, Michael O'Laskey II, Michael R. Gotto, Justin Timsit, Rajia Baroudi, David Bacon, Jim Gray, Karim Prince, Alan Palmer, Tom Wyner, Barbara Goodson, Robert Axelrod, Kerrigan Mahan