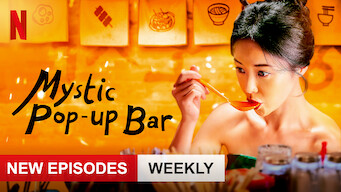 Mystic Pop-up Bar: Season 1
Netflix New Zealand
1 / 5 (compiled from 1 review source)
New Zealand Netflix Release: May 21, 2020
TV Comedies, TV Dramas, Korean TV Shows, Fantasy TV Shows, K-dramas based on Webtoon
Synopsis
A young man with a unique ability begins working for a centuries-old bar owner who resolves her customers' emotional troubles by entering their dreams.
Watch on Netflix
Cast
Hwang Jung-eum, Yook Sung-jae, Choi Won-young, Lee Jun-hyeok, Jeong Da-eun, Na In-woo, Yeom Hye-ran, Park Eun-hye, Park Si-eun, Song Geon-hee, Kim Hee-jung, Ahn Tae-hwan
Mystic Pop-up Bar: Season 1
Season 1 of Mystic Pop-up Bar has 12 episodes. Because different Netflix countries have different availability for episodes, you'll need to check the episode listing below to see which are available in New Zealand.
You can also click on any episode below to get more information on which Netflix countries it is available in.