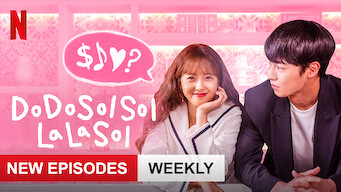 TV Comedies, TV Dramas, Romantic TV Comedies, Romantic TV Dramas, Korean TV Shows
Creator(s): Kim Min-kyoung, Oh Ji-young
Synopsis
A riches-to-rags pianist who loses everything but her smile is guided by twinkling little stars to a small town where she finds hope, home and love. Light for the lost. Friendship for the lonely. Laughter for the burnt-out. Welcome to La La Piano Land!
Watch on Netflix
Cast
Go A-ra, Lee Jae-wook, Kim Ju-hun, Ye Ji-won, Lee Soon-jae, Shin Eun-soo, Seo Yi-sook
Do Do Sol Sol La La Sol: Season 1
Season 1 of Do Do Sol Sol La La Sol has 16 episodes. Because different Netflix countries have different availability for episodes, you'll need to check the episode listing below to see which are available in Panama.
You can also click on any episode below to get more information on which Netflix countries it is available in.