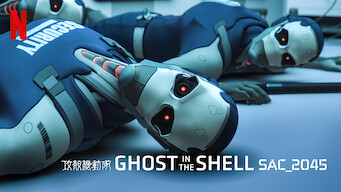 Ghost in the Shell: SAC_2045: Season 1
Netflix Portugal
1 / 5 (compiled from 1 review source)
Portuguese Netflix Release: May 6, 2020
Action Anime, Anime Series, Japanese TV Shows, Sci-Fi & Fantasy Anime, Cyberpunk, TV Shows Based on Manga
Synopsis
After a global financial crisis, the world is engulfed in an AI-driven "sustainable war." It's up to Section 9 to counter new forms of cyber threats. It's 2045. The rich prosper; the poor live in wastelands. But Major Kusanagi's back, ready to dive in and save the world.
Watch on Netflix
Cast
Atsuko Tanaka, Osamu Saka, Akio Otsuka, Koichi Yamadera, Yutaka Nakano, Toru Okawa, Takashi Onozuka, Taro Yamaguchi, Sakiko Tamagawa, Megumi Han, Kenjiro Tsuda, Kaiji Soze, Shigeo Kiyama
Ghost in the Shell: SAC_2045: Season 1
Season 1 of Ghost in the Shell: SAC_2045 has 12 episodes. Because different Netflix countries have different availability for episodes, you'll need to check the episode listing below to see which are available in Portugal.
You can also click on any episode below to get more information on which Netflix countries it is available in.